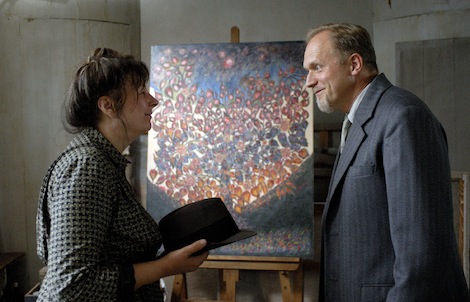 Have you ever heard of the female painter Séraphine Louis (a.k.a Séraphine de Senlis)? She was a self-taught artist living in France between 1864 and 1942. Much of her work is of flowers, leaves and fruit. Whereas some painters "simply" try to reproduce the physical attributes of flora in still life, Séraphine somehow endows her creations with animalistic qualities–leaves scurry to and fro like large insects, peaches stare back at us with piercing black eyes, and bushes parade their plumage not unlike a peacock.
As with any biography, a writer is better off focusing on a particular time period in their subject's life. Director-writer Martin Provost has chosen to chronicle Séraphine's beginning in 1912 when she's first discovered by the German collector Wilhelm Uhde. Séraphine has been working as a maid for many years at this point. As a respite from his hectic life in Paris, Wilhelm decides to rent a two-bedroom apartment in Senlis where she does one hour of cleaning every morning. Purely by chance, Wilhelm sees one of Séraphine's paintings and immediately recognizes her potential.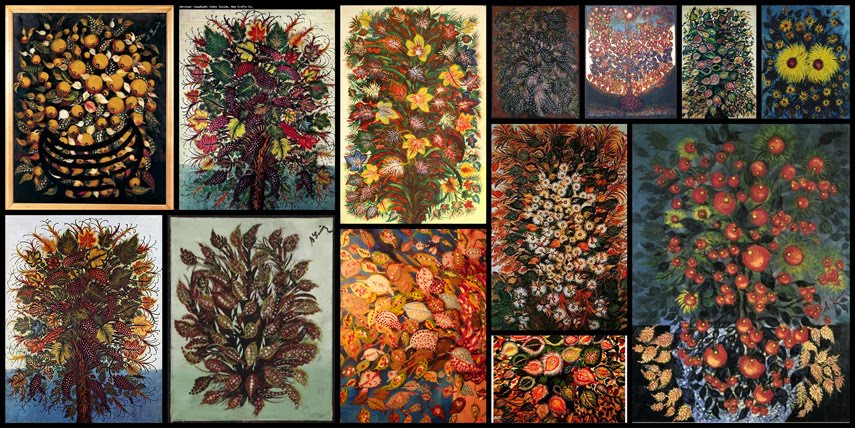 If not for Wilhelm's attentions, Séraphine would likely never have been discovered, died in obscurity, and her paintings lost forever. There are only two characters of consequence in this film, Séraphine Louis (Yolande Moreau) and Wilhelm Uhde (Ulrich Tukur). Neither is uncomplicated. The painter suffers from chronic psychosis, and will eventually die in a psychiatric hospital. The collector will become her patron, but abandon her twice, once in the face of war and a second time for reasons unexplained.
Yolande Moreau's portrayal of this woman is impressive. I can't imagine another actress playing this part. Watching Moreau's character apply brush to canvas was one of the most entertaining parts of the film. It also never occurred to me that some painters start with plain white and mix their own colors by adding organic substances (such as blood?). This is definitely worth seeing.
An excerpt from the press notes at Music Box Films, some important historical events that will help you to better appreciate the movie:
1864 — Séraphine is born on September 2 in Arsy-sur-Oise. Her father is a small time clock maker and her mother is a farm girl. As a child, Séraphine divides her time between school (she is said to be a good student) and the fields (she is a shepherdess).
1877 — When she turns 13, Séraphine is sent to work as a maid in Paris. She will later be hired by an institute for young women where she will initiate herself to art by observing the drawing teacher's classes.
1882 — At 18, Séraphine is hired as a servant by the nuns of the Saint-Joseph-de-Cluny convent where she will stay for 20 years.
1902 — Séraphine begins working as a maid.
1905 — It was her guardian angel, according to her, who suggested to Séraphine that she draw and later, that she paint. Very pious, Séraphine is familiar with these kinds of visions and "voices" that will accompany her until the end of her life.
Venue: Netflix streaming
Country: France, Belgium
Language: French, German, Latin
Genre: Biography, Drama