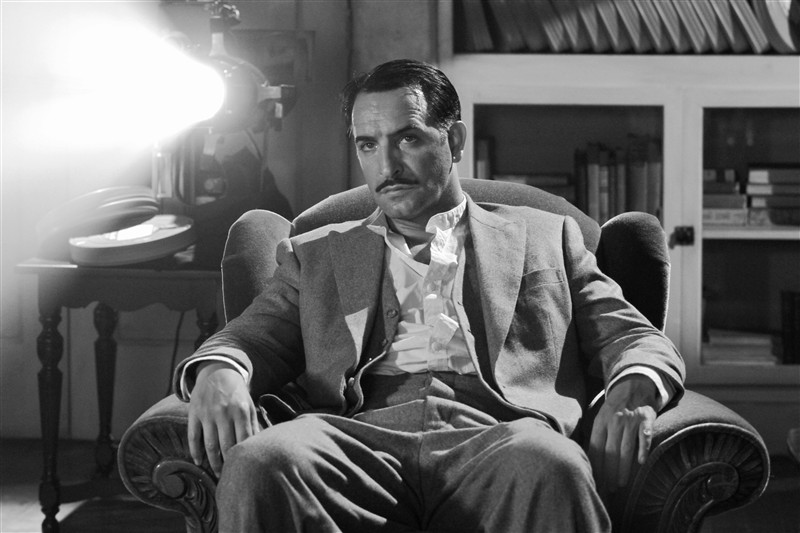 The year is 1927 with the great depression looming on the horizon. George Valentin (played by Jean Dujardin) is a silent film star and his performances play to packed houses. However, he gives more curtain calls to his straightman terrier than his co-star wife. He is vane, a trait that may cause his eventual downfall. Talkies are the future of motion picture, at least that's what his producer (played by John Goodman) tells him after the two watch a screen test of Valentin's wife singing into a microphone on camera. But George is stubborn, he's an artist. He knows what art is and it definitely doesn't include the introduction of audible dialogue to cinema. George won't talk and the studio he works for refuses to make any more silent films.
Director Michel Hazanavicius's two previous films were OSS 117: Cairo, Nest of Spies and OSS 117: Lost in Rio, both starring Jean Dujardin in comedic portrayals of a James Bond-like secret agent. Dujardin's nack for flamboyant movement and expressive facial gestures work well in the silent context. I liked the OSS movies, they played as opening and closing night films at SIFF, but I couldn't help feeling that his character (or the actor himself) was a little too flamboyant for that part. Dujardin won the 2011 best actor award at Cannes for his role in The Artist, an honor that was much deserved. He reminds me of Rowan Atkinson (Mr. Bean), only with a more manic depressive persona.
Hazanavicius borrows from several famous scenes in other movies. The man sitting in an armchair, watching one of his own films and reminiscing about glory days, out-drinking even Hunter S. Thompson in the process. The dog who fetches help when his master goes insane and lights the film on fire. And by the way, Jean's co-star terrier (played by dog actor Uggy) is a scene stealer.
As for the evening's venue, this was the grand reopening of one of Seattle's oldest movie houses, the Uptown Theater. About 11 months ago, AMC decided that the 1920's era Uptown could no longer compete in today's marketplace so they closed its doors. SIFF spent the better part of last year trying to broker a deal to buy the venue and re-open it as an art house theater. Prices are reasonable, SIFF members pay as little as $5 for a ticket. Compared to the Regal Cinema at Northgate Mall (where adults pay $14 for The Three Musketeers in 3-D or $17.50 for Puss in Boots in 3-D IMAX) the Uptown is quite a bargain.
Venue: SIFF Cinema Uptown Theater
Country: France
Language: French
Genre: Silent, Black and White, Drama, Comedy