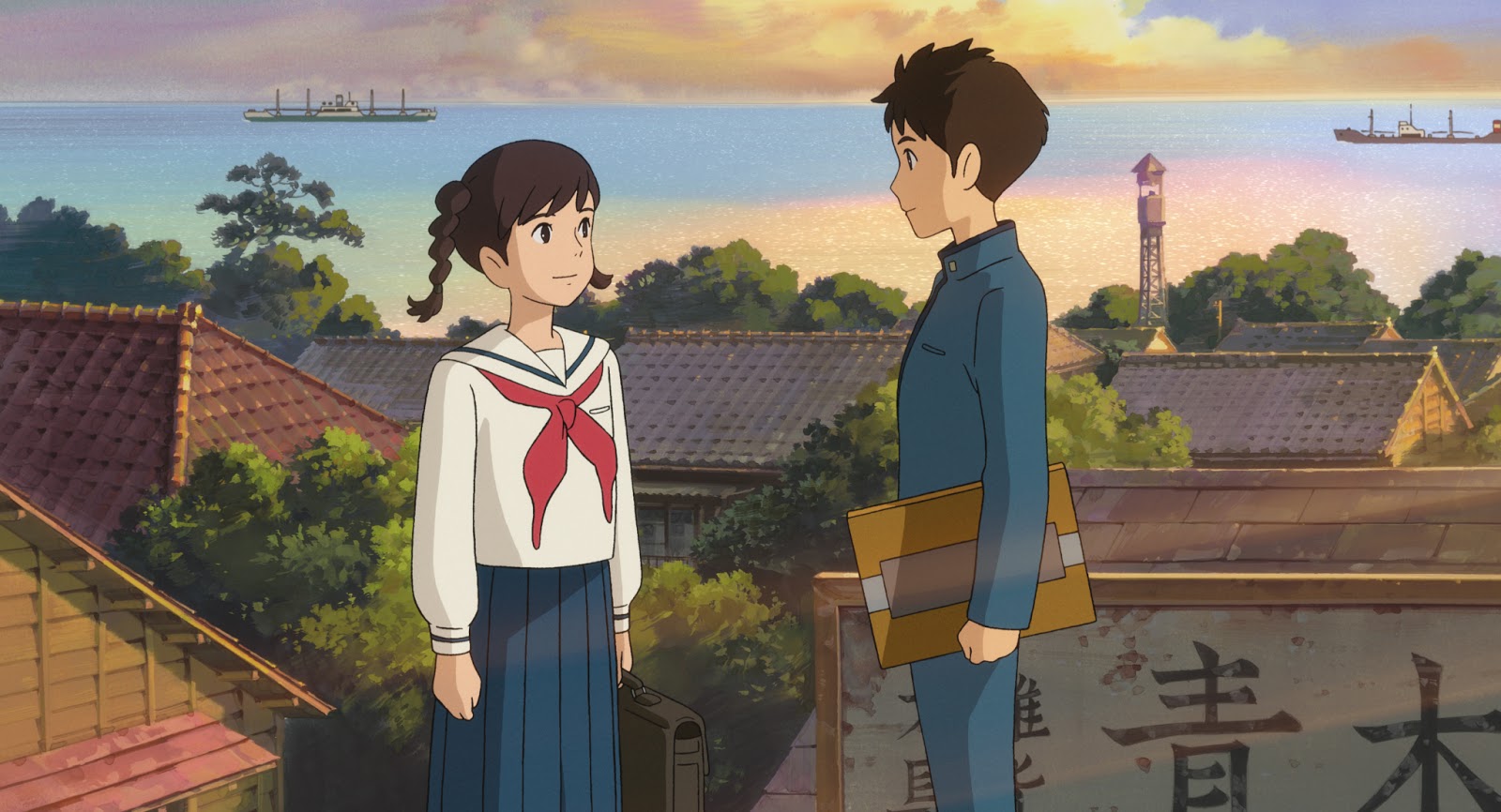 From up on Poppy Hill, one can see the ocean, and all of the ships that pass through Yokohama harbor. Each morning, a young high school girl named Umi raises maritime signal flags (on a flag pole built by her grandfather). Her father's supply ship was sunk by a mine some years earlier during the Korean war. Umi's flags are meant to guide her father home. The year is 1963 and Tokyo's summer Olympics are almost upon Japan. It is a country looking to the future instead of the past, and from that the film's tension is generated.
The story is based on a Japanese manga series written by Tetsurō Sayama and Chizuru Takahashi, and serialized by publisher Kodansha from January to August 1980 in the shōjo manga magazine Nakayoshi. I assume you understand most of that, but shōjo is a form of manga marketed specifically toward teenage girls. With that in mind, From Up On Poppy Hill is half love story, between a girl and a boy. An innocent romance begins to bud between Umi and Shun, one of her classmates. Shun enlists Umi's help to protect their school's "clubhouse" from demolition, and the time they spend working together kindles the love that they share for each other. Did I mention that they're secretly brother and sister? No?
One of the last reviews written by renown movie critic Roger Ebert was of this film. In his words, "The latest film from Japan's Studio Ghibli … is a disappointment." I wish I could disagree. For American audiences, this will not be on the same scale as Spirited Away. But, if you have a little boy that likes boats (and there are lots of boats in this movie), or a little girl that likes strong role models (Umi runs a boarding house, and goes to school, and helps preserve a historic building, and finds time for her boyfriend), then you will enjoy it.
Venue: Egyptian Theatre, Seattle
Country: Japan
Language: English (dubbed)
Genre: Drama, Animated